AJ Carpet and Flooring carries highly sought-after Luxury Vinyl Plank (LVP) and Luxury Vinyl Tile (LVT) flooring from top brand manufacturers. LVT/LVP flooring offers versatility and easy care and cleaning. You will find several prices and nearly endless styles and colors at A.J. Carpet & Flooring. LVP/LVT flooring combines dramatic, authentic-looking visuals – like slate, limestone, sisal and linen – with durability and easy maintenance.
Why Choose Luxury Vinyl?
Easy Installation
Clean & Comfortable
Water Resistant
Pet Friendly
Luxury vinyl tile flooring provides flexibility to easily cut to fit unique flooring shape requirements or around kitchen islands and bathroom sinks and cabinets. Tongue and groove design enables adhesive free installation. LVT flooring is soft underfoot and easy to clean. Most importantly perhaps, is that it is water resistant making it a perfect choice for kitchens and bathrooms or any area with high traffic. Pets are hard on some flooring. Not LVT! From accidents to nail scratches, luxury vinyl tile flooring is waterproof and durable making clean up easy.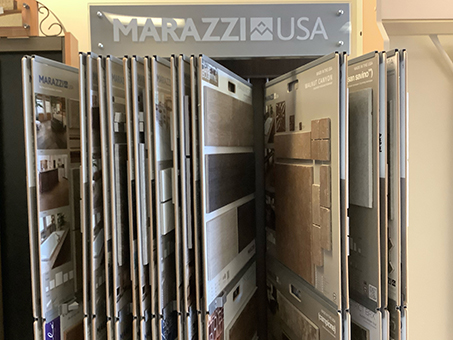 Luxury vinyl is available in plank, tile or sheet vinyl. Get a high-end look without the high cost. AJ Carpet & Flooring carries a wide selection of stone and wood loos giving any room a gorgeous upgrade from manufacturers like Cortex (Shaw), Congoleum (Mohawk). The texture of LVT is soft and maintains a consistent temperature all season long. It is comfortable to walk on even barefoot or for long periods of standing making it perfect for a kitchen installation.
Luxury vinyl has outstanding performance withstanding spills, scuffs, and even Fido's abuse. The tight, waterproof, resilient surface enables easy clean up and helps to prevent damage to subfloors with liquid accidents, including Fido's!
Easy care and cleaning
Sweep as needed
Mop occasionally
No waxing, polishing or buffing required


Soft underfoot
"Gives" when you walk on it
Plates and glasses are less likely to break when they fall
Maintains consistent temperatures all year
Cork Backing
Durability
"Gives" when you walk on it
Plates and glasses are less likely to break when they fall
Scratch resistant
Water Resistant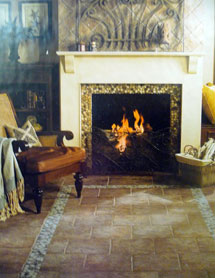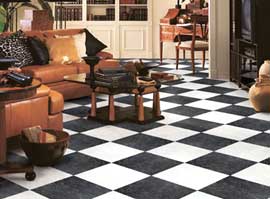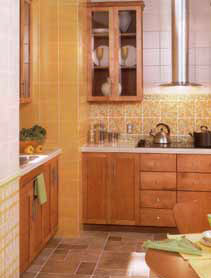 Vinyl Floors
Ceramic Tile
Selecting the proper type of ceramic tile for your project is probably the most important installation decision you will make.
AJ Carpet and Flooring has experienced staff to assist you in your decision.
Although there are no industry standards, most ceramic tile is rated for use by the Porcelain Enamel Institute (PEI) abrasion test. PEI ratings measure the wear resistance of the tile surface.
Class 1 - No Foot Traffic
Class 2 - Light Traffic
Class 3 - Light to Moderate Traffic
Class 4 - Moderate to Heavy Traffic
Class 5+ - Heavy to Extra Heavy Traffic
Quality Ceramic Tile products available from providers such as: